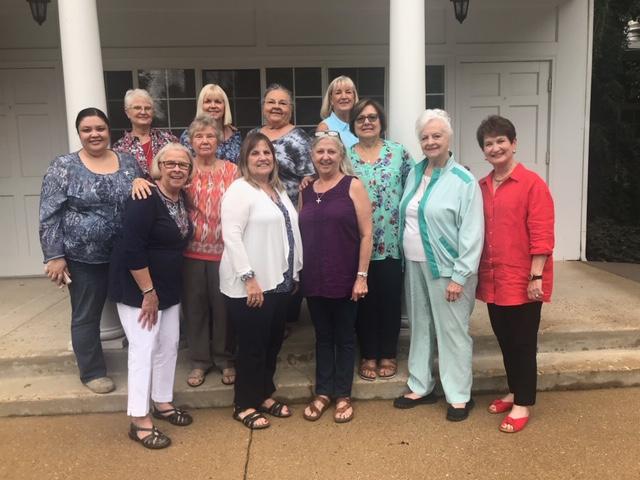 ​From Wanda Dunwoody, Arkansas Assembly President: This picture is of myself and local chapter presidents giving a pro-rata portion of the $1,300 to the Arkansas Food Bank, that covers central and all of south Arkansas. We also donated to the Arkansas River Valley Food Bank, Food Bank of NE Arkansas, and the Food Bank of NW Arkansas.
Diocese of Dallas Food Bank Donation to Oak Cliff Churches for Emergency Aid - Historian, Bert Rakowitz (L) of St. Elizabeth of Hungary Catholic Church, DeeAnna Villalobos Dallas DOK board - Secretary, Food Pantry Manager, Vernall Cole (R) of Glen Oaks Methodist. (picture on left)
Network of Community Ministries - Andrea Roberts Dallas DOK board President and Rachel McNully Food Pantry Manager. (picture on right)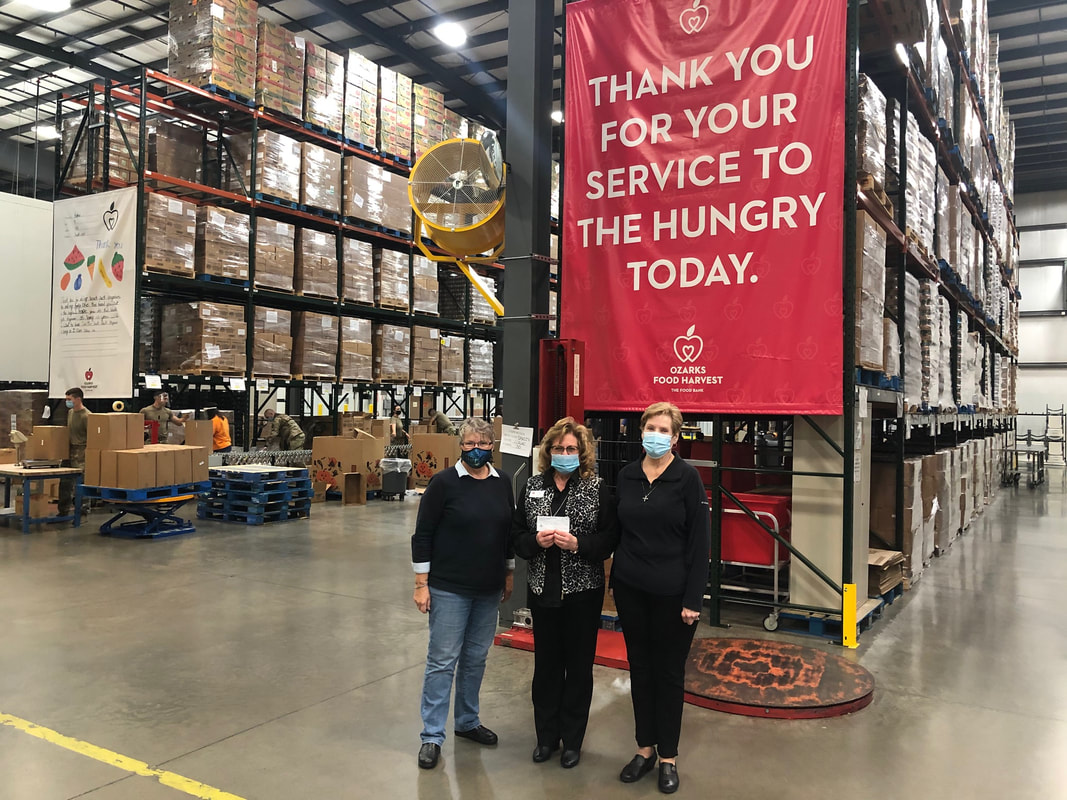 Pictured are left to right: Elaine Atkinson-Treasurer for DOK Diocese of West Missouri, Denise- Ozark Food Harvest Development, and Cheryl Webb-Laughlin-President for DOK Diocese of West Missouri.

$200 check being presented to Ozarks Food Harvest, Springfield, MO on Nov. 2, 2020 who leverages every $1 donated to $10 worth of food distribution services across 28 Missouri counties. Thank you DOK Province 7 for helping those who need us most!

FALL ASSEMBLY 2020
POWER POINT

Province VII
Report to National Council
2019-2020

​"Then Christ will make his home in your hearts as you trust in him. Your roots will grow down into God's love and keep you strong." EPH 3:17 NLT


Greetings from Prov VII. We have survived another year, and what a year it has been! National shutdown due to the pandemic and then Hurricane Laura this summer, we are glad to be alive and serving our Lord!

Province VII has thirteen diocese, and covers seven states; Arkansas, Kansas, Louisiana, Missouri, New Mexico, Oklahoma, and Texas. We have 5,055 Daughters in 372 chapters, 283 DAL and 290 JDOK.

We started the year in September with our board retreat at Mustang Island. It was a wonderful time of fellowship, spirituality and learning. We spent one day being educated on the DALI program and learning how to use it in our province. The last day was spent in spiritual renewal. The board was able to fill chair position for strategic planning, membership, DALI and international Daughters.

Our Spring Assembly was to take place in Kansas City, MO, in late April of 2020, but the pandemic had other plans. All our planning was thrown to the way side. Fortunately, the board had initiated an email system in early Spring to improve communication around the province. Send in Blue was a life saver for the province. We could now send out information from national and the province to all Daughters in Province VII. We sent information out to over 5000 Daughters with 50% of the emails acknowledged. The executive board has always sent out email communication to the full board at least monthly and more often if necessary. Now the board can send out monthly newsletters with updates to all Daughters in the province, including programs and initiative by national council, like "Conversations with Daughters".

Another electronic tool that has been a life saver this year is Zoom. The executive board and full board has been able to have its meetings via Zoom. The province even held its Spring Assembly, this Fall on Zoom. We had 300 daughters register, 160 attend the Assembly. We held our elections for the incoming 2021 Board on Zoom during the Assembly and passed our 2021 budget. The Assembly voted to hold another assembly in Spring of 2021, by Zoom.

The incoming executive board for September 2021 is:
President Andrea Hale Dio Arkansas
Vice President Suzanne Spradling Dio Oklahoma
Secretary Renate Walker Dio Texas
Treasurer Wanda Dunwoody Dio Arkansas

DAL representative for Triennial is Sharon Lundgren DAL from Dio TX



During our Zoom Assembly we recognized seven chapters in Province VII that are over 100 years old. They are:

Sr 366 - Advent at Christ Church, Little Rock, AR c. ?
Sr 668 - Trinity at St. Paul in Fayetteville, AR, c. 1899
Sr 543 - Trinity at Trinity in Pine bluff, AR, c. 1899
Sr 685 - St Mary Magdalene at St Mark, Beaumont, TX, c. 1900
Sr 887 - Trinity at Trinity, Houston, TX, c. ?
Sr 688 - St Mary at St John, Wichita, KS, c 1900
Sr 992 - St Agnes at Grace, Muskogee, OK, c. 1910

One chapter celebrated 85 years of continuous serve:

Sr 1459 - Sara Belle Clark at Good Shepherd, Corpus Christi, TX, c 1935


Learning to function in a virtual world will continue to be a challenge. This coming year we will be focusing on membership and payment of dues. Currently, 38% of the Daughters in the Province VII are not up to date on dues. The province board has increased money availability for dues assistance. We are also encouraging dioceses and chapters to step-up and do the same. The positive aspect of being virtual, the assembly president was able to attend several diocesan assemblies this year.

Prayers and thanksgiving for another successful year.


Respectfully submitted,
Judy Bordelon,
Province Assembly VII President
Submitted October 2020


​
Join us for the Nehemiah Prayer Vigil for Peace and Healing
September 1 - October 22, 2020
Dear Daughters,
​
Are you ready for the Nehemiah Prayer Vigil? Or not sure what to do? Go to
www.doknational.org
and replay "Conversations with Daughters, Part 10". It explains the 52 day prayer vigil. The link below is the power point for the Nehemiah Prayer Vigil.
​
https://cdn.ymaws.com/www.doknational.org/resource/resmgr/dok_resources/Nehemiah_Prayer.pdf
Take some time to read the Book of Nehemiah in the Bible which explains the reason for the 52 days.
You can do this by yourself or in conjunction with your Chapter, or with your prayer partner if you have one.
It is recommended to use a prayer journal and keep track of how God is using you during the prayer vigil.
You can also share with each other on email what you are doing during this time of prayer.
Hope this helps a little bit.
​
FHS,
Judy Bordelon
Province VII Assembly President
jbordelon@doknational.org

More Information about the Vigil from doknational.org
We are building walls of Prayer around our families, our churches, our cities, and our nation from September 1st - October 22nd, a total of 52 days, so that the Holy Spirit can come into our country and bring about peace and healing! Please join us.
Our Four Prayer Points:
1.
Repent
- of injustice, inequality, hatred, violence and racism
2.
Restore
- peace, civility, compassion; spiritual, physical and mental health.
3.
Revive
- sense of being one people - "
One nation under God
."
4.
Recommit
- daily to our motto, asking the Lord, "
What will you have me do?
" and asking the Lord to give you strength and courage to follow HIS direction.
A Prayer of Repentance
This prayer was written by our National Enrichment Chair, Susan Keith, for this vigil.
Oh Great God of Abraham, Isaac and Jacob,
Just as Nehemiah prayed day and night
For the people of Israel,
I am praying for the people of the United States
Yes, and even for the world.
The people of this country
Have not kept the commandments.
We have not kept the statutes
That you gave to Moses.
And we ask your forgiveness.
We remember your word to Moses.
We have been unfaithful.
But, O Lord, hear the prayers
Of your servants who delight in your name.
Grant us your mercy.
Restore in us that justice
That treats everyone as your child.
Remind us of the love that Jesus taught.
​Return us to a community of your followers.
Lord, have mercy on us and forgive us.
​©Susan Keith September 1,
From the Book of Nehemiah
​
1. Nehemiah's Prayer: Chapter 1: "O Lord, I confess the sins we Israelites (USA), including myself and my father's house, have committed against You."
2. Nehemiah recruits families to do the work: Chapter 2: The people listened to Nehemiah, and they replied "Let us start rebuilding the walls." So they began the good work.
3. Nehemiah's confirmation of the work: Chapter 2: "The God of heaven will give us success. We will start rebuilding."
4. Nehemiah is helped to restore 9 gates around the broken walls: Chapter 6: "So the wall was completed in 52 days!"
5. Ezra opens the Book of the Law: Chapter 8: "All the people stood up and listened to the Word of God; all the people lifted their hands and shouted Amen! Amen! Then bowed down and worshiped the Lord with their faces to the ground."
6. Nehemiah encouraged the people to take a day of rest and celebration. Because the Lord was overjoyed with the worship of the people, Nehemiah said, "Do not grieve, for the joy of the Lord is your strength!"
7. The people agreed to obey the commands of the Lord. Chapter 10 "We will not neglect the house of our God."
Daughters, we are building walls of Prayer around our families, our churches, our cities, and our nation from September 1st - Oct 22nd, a total of 52 days, so that the Holy Spirit like Ezra can come into our country and bring about Peace and Healing! Please join us.